About Prestige Indonesia
Prestige Indonesia is the archipelago's only truly world-class, English-language luxury lifestyle and high-society magazine. Read by the most successful and influential people in Indonesia, this glossy, glamorous and well-written publication is as entertaining as it is well-informed, and as insightful as it is beautifully designed.
The Prestige brand's DNA is all about celebrity and status, luxury and leisure, style and culture – and it has a most distinctive and unrivalled passion for fashion. The magazine celebrates the high-octane life of the stylish, sophisticated, international in outlook and extremely affluent. Aged between 28 and 55, these privileged achievers have a high appreciation of the finer things in life. Since it's launch in 2004, Prestige Indonesia has been delivering a unique and contemporary international air to the lifestyle magazine category in Indonesia.
---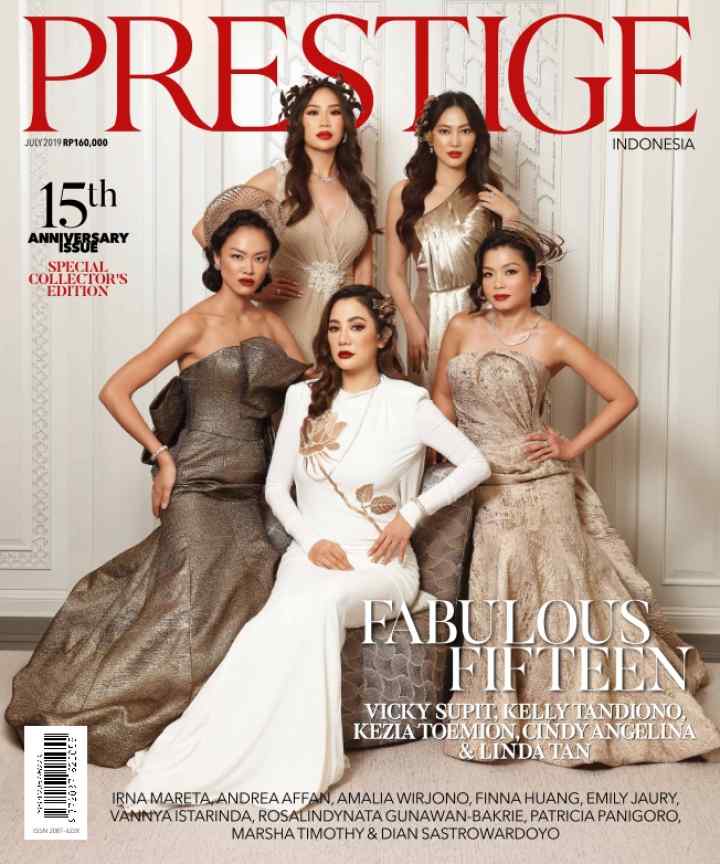 July 2019
What's Inside
FABULOUS FIFTEEN: Prestige turns 15 this year! We celebrate it with some of our favourite cover girls who have amazing personalities in Jakarta's High Society: Irna Mareta, Andrea Affan, Vicky Supit, Amalia Wirjono, Finna Huang, Emily Jaury, Vannya Istarinda, Rosalindynata Gunawan-Bakrie, Patricia Panigoro, Kezia Toemion, Marsha Timothy, Linda Tan, Cindy Angelina, Kelly Tandiono, and Dian Sastrowardoyo.
IT GIRLS 2019: Whether they are promoting sustainable living, working in the community, providing state-of-the-art dental services or making women feel empowered, this month, we highlighted four young ladies who make positive impacts and a difference in their field.
LOUIS VUITTON'S EXOTIC BAR: We went to Louis Vuitton's exclusive event of the new exotic leather collection and did a special photo shoot in Singapore.
INTERVIEW WITH SIMON BAKER: Prestige recently talked with Longines Ambassador of Elegance and American Actor, Simon Baker, and discusses his fascination with watches and the storied Swiss brand.
MASTERS OF DESIGN: Get our bi-annual Living issue with renowned international interior designer Jonathan Adler who graces the cover, and more exclusive interviews with Katharine Pooley, Michael Aram, Alexander Gotama, Ilda Pires Johannes Torpe, and Andra Matin who share how they create their signature designs.
Website
Subscribe Now
Preview