About Prestige Indonesia
Prestige Indonesia is the archipelago's only truly world-class, English-language luxury lifestyle and high-society magazine. Read by the most successful and influential people in Indonesia, this glossy, glamorous and well-written publication is as entertaining as it is well-informed, and as insightful as it is beautifully designed.
The Prestige brand's DNA is all about celebrity and status, luxury and leisure, style and culture – and it has a most distinctive and unrivalled passion for fashion. The magazine celebrates the high-octane life of the stylish, sophisticated, international in outlook and extremely affluent. Aged between 28 and 55, these privileged achievers have a high appreciation of the finer things in life. Since it's launch in 2004, Prestige Indonesia has been delivering a unique and contemporary international air to the lifestyle magazine category in Indonesia.
---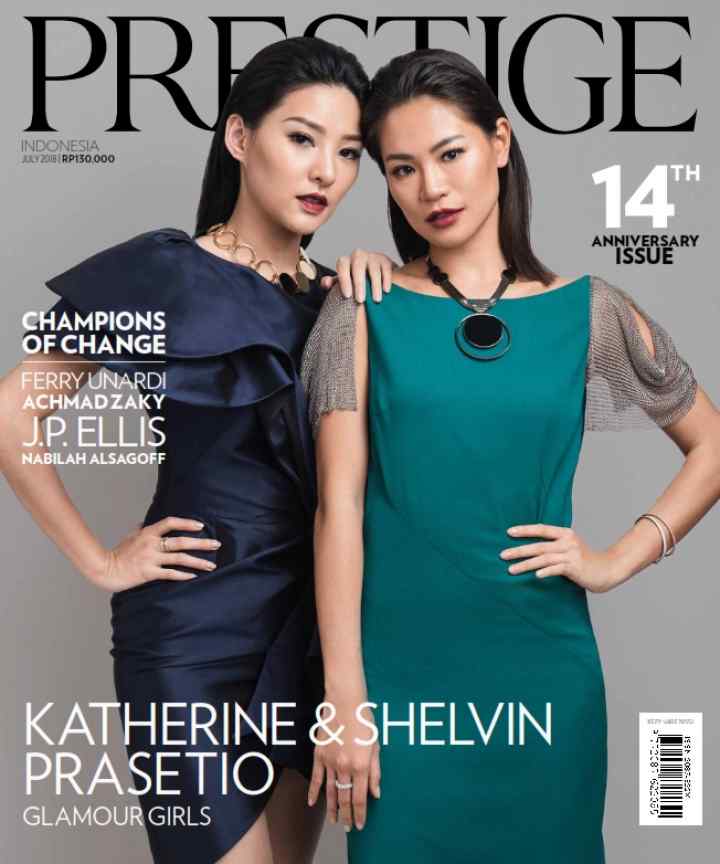 July 2018
What's Inside
On the cover: We celebrate our 14th anniversary with two girl bosses who are making the most of digital for their businesses: Katherine Prasetio with her jewellery business Simon Ross and Shelvin Prasetio with her bridal gowns Wearstatusquo.
We featured more revolutionary digital disruptors: Ferry Unardi, the founder of Traveloka; Achmad Zaky, founder of Bukalapak; J.P. Ellis, founder and CEO of C88 Financial Technologies; Nabilah Alsagoff who is a pioneer of electronic money in Indonesia, Doku.
Follow the brightest young performers–Michelle Ziudith, Mentari de Marelle, Ranty Maria, and Caitlin Halderman–reveal how they got bitten by the acting bug!
For all avid travellers, check out the review of Four Seasons Resort Bali at Jimbaran Bay. Their most palatial villas have been entirely rebuilt from the ground up, based on individual designs by the late Jaya Ibrahim.
More fashion reports and editorials showcasing the latest collections from premium global brands you love.
Website
Subscribe Now
Preview