About Prestige Indonesia
Prestige Indonesia is the archipelago's only truly world-class, English-language luxury lifestyle and high-society magazine. Read by the most successful and influential people in Indonesia, this glossy, glamorous and well-written publication is as entertaining as it is well-informed, and as insightful as it is beautifully designed.
The Prestige brand's DNA is all about celebrity and status, luxury and leisure, style and culture – and it has a most distinctive and unrivalled passion for fashion. The magazine celebrates the high-octane life of the stylish, sophisticated, international in outlook and extremely affluent. Aged between 28 and 55, these privileged achievers have a high appreciation of the finer things in life. Since it's launch in 2004, Prestige Indonesia has been delivering a unique and contemporary international air to the lifestyle magazine category in Indonesia.
---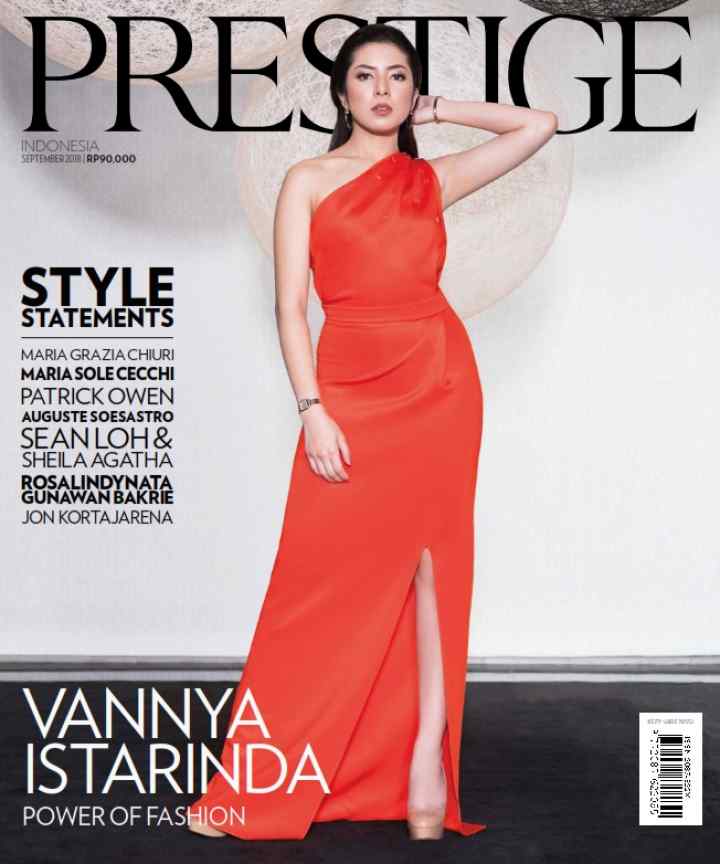 September 2018
What's Inside
On the cover: Vannya Istarinda, the 23-year-old Architecture graduate from Indonesia University and Curtin University in Perth, is a member of young generation that is rewriting the rules of the fashion industry in her daily life. She embodies the high-street fashion lifestyle, as she living the high-life in her social circle and also passionately achieving her life goals whether as an entrepreneur in fashion with her new brand, Dua Awan, or to run in all six World Marathon Majors.
#FashionInspo: We've curated menswear and womenswear's biggest key trends from autumn/winter 2018 collection.
Major Players: See the big shifts in fashion world through the major players' eyes; artistic director of Dior, Maria Grazia Chiuri, founder of Les Petits Joueurs Maria Sole Cecchi, Indonesian designers Patrick Owen, Auguste Soesastro, Sean Loh and Sheila Agatha, and Vannya Istarinda.
Prestige shopping list from Masari: Editorial picks on what you need to have this season with Rosalindynata Gunawan as our fashion darling of the moment.
New escape destinations: The ultra-luxurious tented camp, Capella Ubud, will get you addicted to #Glamping
Fast Lane: Taking an extraordinary ride in full power with the greatest Mercedes Benz latest cars and megawatt looks in #AW18's best style.
Top Model: Jon Kortajarena may have become a regular fixture on screens but he still knows what truly matters.
Lifestyle updates: From the latest decoration of table settings by Roland Adam to dining in at the new restaurant Le Burger.
Watch World: The finest timepieces from Timeplace's leading brands; Piaget, IWC, Chopard, and Tag Heuer.
More fashion reports and editorials showcasing the latest collections from premium global brands you love.
Website
Subscribe Now
Preview