About Prestige Indonesia
Prestige Indonesia is the archipelago's only truly world-class, English-language luxury lifestyle and high-society magazine. Read by the most successful and influential people in Indonesia, this glossy, glamorous and well-written publication is as entertaining as it is well-informed, and as insightful as it is beautifully designed.
The Prestige brand's DNA is all about celebrity and status, luxury and leisure, style and culture – and it has a most distinctive and unrivalled passion for fashion. The magazine celebrates the high-octane life of the stylish, sophisticated, international in outlook and extremely affluent. Aged between 28 and 55, these privileged achievers have a high appreciation of the finer things in life. Since it's launch in 2004, Prestige Indonesia has been delivering a unique and contemporary international air to the lifestyle magazine category in Indonesia.
---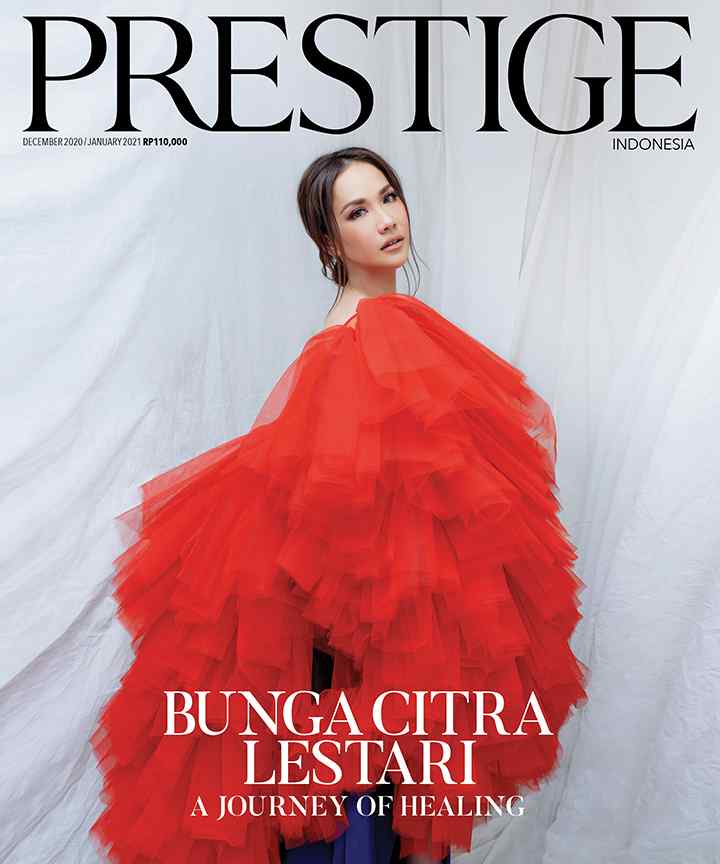 December 2020 - January 2021
What's Inside
COVER STORY - This December'20/January'21, Prestige presents the exclusive interview with singer Bunga Citra Lestari about how she learned to understand herself again, accepting how life must go on, and learning to walk again.
IT List - We meet with most dynamic and influential change makers of the year; the IT Designer, Didit Hediprasetyo. From the silver screen perspective, Joko Anwar as the IT Filmmaker. On the other hand, Jefri Nichol as the IT Actor. Presenter, journalist, and entrepreneur Najwa Shihab appointed as the ITJournalist. Lastly, Wanda Ponika as the ITSociopreneur.
FASHION JOURNALS - Explore our latest collection highlights with top fashion brands including Valentino, Fendi, Tory Burch, Celine, Ermenegildo Zegna, and Berluti. Also, reinventing the sports heritage by Onitsuka Tiger for its Autumn/Winter 2020 Collection.
LUXURIOUS TREATMENTS – The most anticipated Maison Kitsuné together with the iconic Café Kitsuné open its door and we got a chance to discover the brand's multi-faceted world in the heart of Jakarta.
POSH LIFE - From supercars to limited edition watches and the latest fashion insights, explore them all in Prestige's December'20/January'21 issue.
Website
Subscribe Now
Preview