About DA MAN
DA MAN is Indonesia's only home-grown men's English language magazine dedicated to offering the best in fashion and lifestyle for the growing market of high-class, fashion forward men in Indonesia and the region. Established in May 2007, DA MAN's exclusive photo shoots and interviews of Hollywood celebrities, international actors and top models, is a testament to how well-respected DA MAN is both in Indonesia and abroad.
DA MAN provides its highly-educated, discerning readers the latest news on the hottest trends in fashion, luxury, art and design, and much more. With a creative team based in the U.S., DA MAN has a strong link to Hollywood. This link gives DA MAN the edge of being one of the first titles publicists' seek to extend the exposure of Hollywood's who's who in Asia. DA MAN is published six times a year with a print run of 45,000 copies (and growing) and is distributed in Indonesia.
---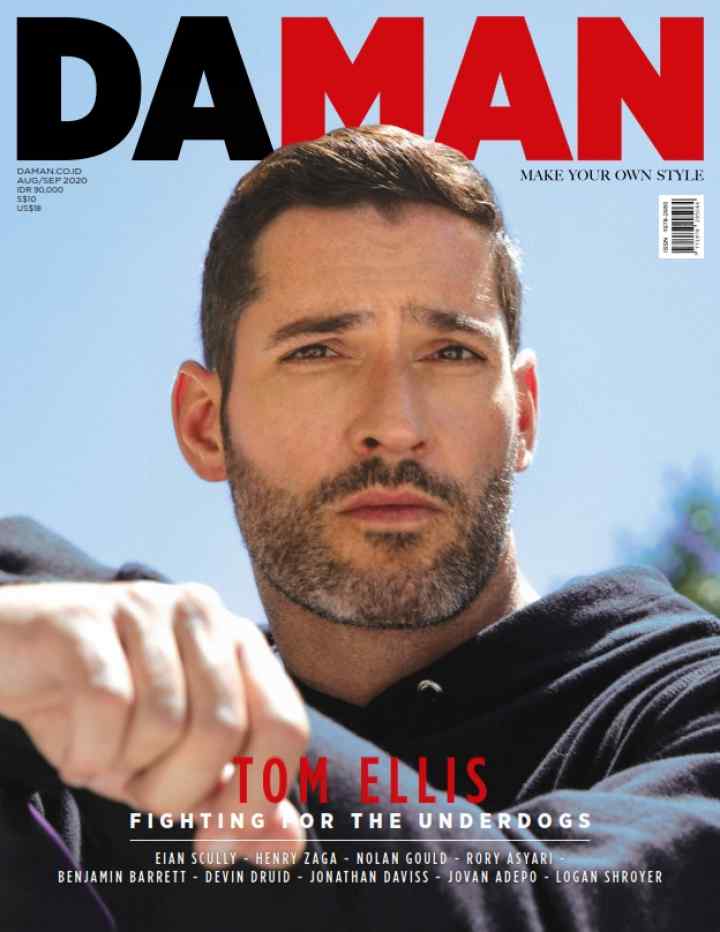 August/September 2020
What's Inside
Cover Story: Tom Ellis of "Lucifer" is far from evil. Everybody's favorite Prince of Darkness is well aware of with what's going on in the world and is more than happy to support worthy causes.
Hollywood's Next Generation of Actors: Highlights from our exclusive online features with Benjamin Barrett of "Politician," Jovan Adepo of "Watchmen," Logan Shroyer of "This Is Us" and Devin Druid of "Outer Banks."
Nolan Gould: The star of "Modern Family" on using his voice to support the BLM movement and more.
Henry Zaga: From "Teen Wolf" to "X-Men," how the Brazilian actor caught the acting bug and decided to run with it.
Eian Scully: At home on photo sets as well as the gym, the top model helps brands look their best and his clients be their best.
Lope Navo: A chat with theacclaimed photographer on the evolution of photography, the lasting appeal of printed work and more.
Rory Asyari: In his second appearance on DA MAN, he talks about "Why It Matters," how to stay positive during the pandemic and more.
Health & Fitness: A quick look at the ASMR trend and how to make the most of the humble pullup bar.
Find exclusive insights on DA MAN's favorite fashion brands this season.
Website
Subscribe Now
Preview