About DA MAN
DA MAN is Indonesia's only home-grown men's English language magazine dedicated to offering the best in fashion and lifestyle for the growing market of high-class, fashion forward men in Indonesia and the region. Established in May 2007, DA MAN's exclusive photo shoots and interviews of Hollywood celebrities, international actors and top models, is a testament to how well-respected DA MAN is both in Indonesia and abroad.
DA MAN provides its highly-educated, discerning readers the latest news on the hottest trends in fashion, luxury, art and design, and much more. With a creative team based in the U.S., DA MAN has a strong link to Hollywood. This link gives DA MAN the edge of being one of the first titles publicists' seek to extend the exposure of Hollywood's who's who in Asia. DA MAN is published six times a year with a print run of 45,000 copies (and growing) and is distributed in Indonesia.
---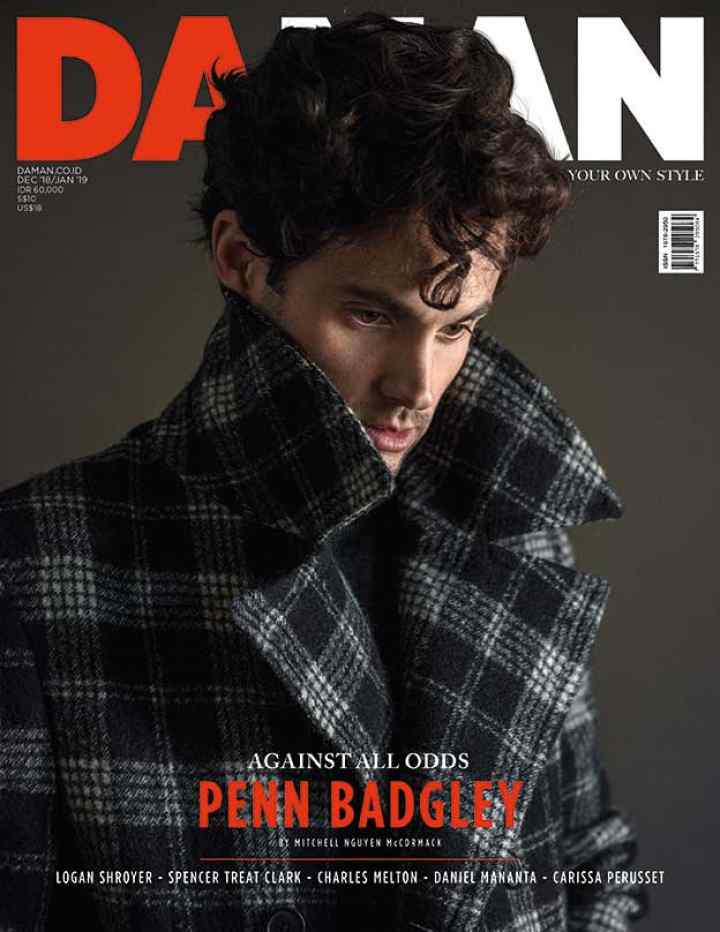 December 2018/January 2019
What's Inside:
AGAINST ALL ODDS – Penn Badgley sheds some light into one of the most subversive shows on TV right now: the creepily awesome "You" Photography Mitchell Nguyen McCormack.
Moving Forward – In his second appearance in DAMAN, Logan Shroyer talks about the third season of "This is Us" and his other projects Photography Mitchell Nguyen McCormack.
A Love Affair With Acting – DAMAN chats with Spencer Treat Clark about superhero universes, his dreams of directing and his latest film projects Photography Mitchell Nguyen McCormack.
Bringing His A-Game – "Riverdale" star Charles Melton chats with DAMAN about his upcoming movie and the show that put him on the map Photography Mitchell Nguyen McCormack.
The Greatest Showman – Daniel Mananta chats with DAMAN about his role in "A Man Called Ahok" and what kind of impact he hopes the movie will bringPhotography Thomas Sito.
Don't Stop Me Now – Model, actress and writer Carissa Perusset talks with DAMAN about her career and the battles she's faced throughout Photography Advan Matthew.
Ahead of the Curve – Your invaluable guide to the most important menswear looks of 2019—and how to get a jump start on everybody else and find the styles that will suit you best Photography Zaky Akbar.
Frontier Spirit – While the iconic hat might be a bit too much for daily wear, there are quite a few elements from the cowboy aesthetic that we can adopt into our day-to-day wardrobe Photography Oltin Dogaru.
Luminous Moments – As we edge ever closer to the new year, we take a look back at some of the best pieces from 2018 that can aid us in following the hours and minutes that pass by Photography Denny Tjan.
Website
Subscribe Now
Preview